To change the Xbox gamertag
The gamertag is mainly known as a username or alias that others identify you with on the Xbox platform. We explain how it can be changed on PC, Xbox One, Xbox 360 and the Console Companion application.
You can now change the gamertag on the Xbox platform. When you change it for the first time, the account goes through Microsoft's house. The other times you want to make a change, you have to pay, so choose wisely. Note that you can use a gamertag that is already used by another user, but at the end a series of numbers up to four will be added.
How to change the Gamertag online
If you are coming from a PC, you can now make the change by following these simple steps:
Go to the following link Change Gamertag, if you are not logged in, do it. You can then choose your new nickname.
Write down the new gamertag you want to change and check if you can use it, as it must comply with certain Xbox policies.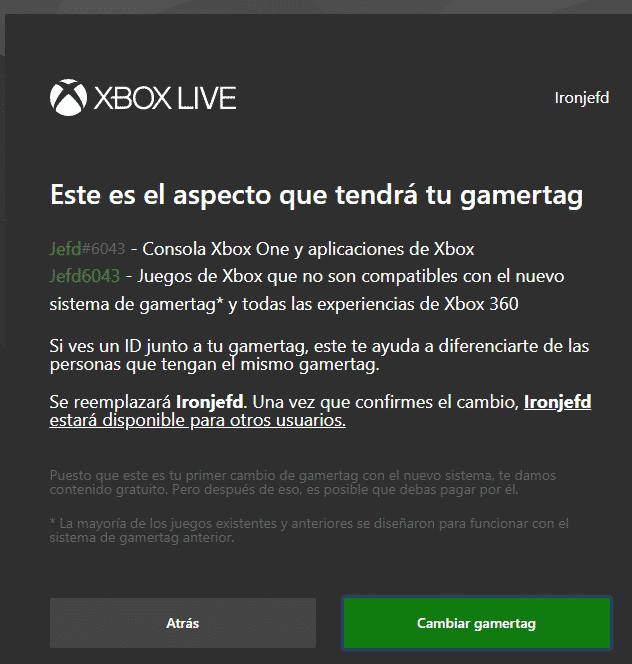 How to change the gamertag on Xbox One
On the Xbox One, the procedure is simple, just follow these steps:
Press the Xbox button on the controller, this will open the guide.
Go to the Profile section in the upper left corner of the screen.
Under Profile, select Customize Gamertag Profile.
Now select Select a new gamertag, then enter your new nickname and accept the changes. Remember that you may not use aliases that conflict with Microsoft policies.
How to change your gamertag from the Xbox 360
If you still have your Xbox 360, you can make the change from this console by doing the following
On the 360 Dashboard, go to the "Social" section and select the "Start" or "Close" option.
Select your profile and log in.
Now go to the Settings section and select the Profile option.
Select the Edit Profile option, then Gamertag, and finally the Write a new gamertag option.
To change the gamertag using the Xbox Console Companion application on Windows 10
From the Xbox application for Windows 10, you can also change the gamertag to follow the steps below
Launch the Xbox companion console application and log in with the email account you use for Xbox.
Then log in, go to the left side of the application home page and select your profile picture.
You will see that there is a customization option under your profile name, select it and then select Change Gamertag.
You can now write the new name you want to use, but remember that only names that comply with Xbox policies are available.
If the gamertag you have selected can be used, simply click Request.
Note that if you make the change from the console companion application, the change should automatically be noted in your Xbox account. If this is the second change that is made, an amount associated with Microsoft will be deducted from your payment account.
This post is also available in:

Español

Italiano

Français

Deutsch